Mir Taqi Mir: Life and Ghazals
kaha main ne kitna hai gul ka sabaat
kali ne yeh sun kar tabassum kiya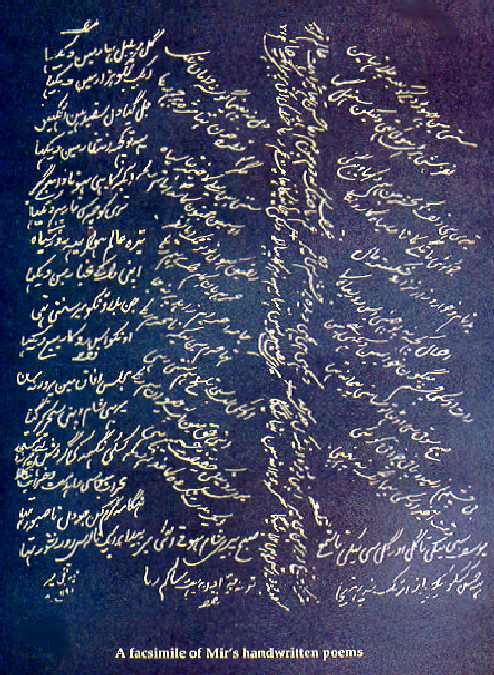 Mir Taqi Mir was born at Agra in 1723. He spent his early childhood under the care and companionship of his father, whose constant emphasis on the importance of love and the value of continence and compassion in life went a long way in moulding the character of the poet, and this became the chief thematic strand of his poetry.
Mir is one of the immortals among Urdu poets. He is a perfect artist of the ghazal, which makes its peculiar appeal through compression, suggestion, imagery and musicality. He builds his poetry on the foundations of his personal experience. His favourite theme is love - love unfulfilled - and his favourite manner is conversational. Mir lived at a time when Urdu poetry was yet at a formative stage - its language was getting reformed and purged of native crudities, and its texture was being enriched with borrowings from Persian imagery and idiom. Aided by his aesthetic instincts, Mir struck a fine balance between the old and the new, the indigenous and the imported elements. Knowing that Urdu is essentially an Indian language, he retained the best in native Hindi speech and leavened it with a sprinkling of Persian diction and phraseology, so as to create a poetic language at once simple, natural and elegant, acceptable alike to the elite and the common folk. Consequently he has developed a style which has been the envy of all succeeding poets...
It is a commonplace of criticism that Mir is a poet of pathos and melancholy moods. His pathos, it should be remembered, is compounded of personal and public causes. His life was a long struggle against unfavourable circumstances...
Mir was a prolific writier. His complete works, Kulliaat, consist of 6 dewans, containing 13,585 couplets comprising all kinds of poetic forms: ghazal, masnavi, qasida, rubai, mustezaad, satire, etc.
... He died in Lucknow on 20 September 1810.
Some of Mir's ghazals

Ibtadaae ishq hai rota hai kya,
Aage aage dekhiye hota hai kya.

Qafile mein subah ke ek shor hai,
Yaani ghaafil ham chale sota hai kya.

Sabz hoti hi nahin yeh sar zamin,
Tukhm-e-khwahish dil mein tu bota hai kya.

Yeh nishaan-e-ishq hain jaate nahin,
Daagh chhaati ke abas dhota hai kya.

Ghairat-e-Yousaf hai yeh waqt-e-aziz,
Mir isko raigaan khota hai kya.


Faqiraana aae sadaa kar chale,
Miyaan khush raho ham dua kar chale.

Jo tujh bin na jeene ko kahte the ham,
So is ahd ko ab wafa kar chale.

Koi naumidana karte nigah,
So tum ham se munh bhi chhipa kar chale.

Bahut aarzoo thi gali ki teri,
So yaan se lahu mein naha kar chale.

Dikhai diye yun ke bekhud kiya,
Hamen aap se bhi juda kar chale.

Jabin sijda karte hi karte gayi,
Haq-e-bandgi ham ada kar chale.

Prastash ki yaan taeen ke ai but tujhe,
Nazr mein sabhon ki Khuda kar chale.

Gayi umr dar band-e-fikr-e-ghazal,
So is fan ko aisa bara kar chale.

Kahen kya jo puchhe koi ham se Mir,
Jahaan mein tum ae the kya kar chale.


Kya kahun tum se main ke kya hai ishq,
Jaan ka rog hai, bala hai ishq.

Ishq hi ishq hai jahaan dekho,
Saare aalam mein bhar raha hai ishq.

Ishq maashuq ishq aashiq hai,
Yaani apna hi mubtala hai ishq.

Ishq hai tarz-o-taur ishq ke taeen,
Kahin banda kahin Khuda hai ishq.

Kaun maqsad ko ishq bin pohuncha,
Aarzoo ishq wa mudda hai ishq.

Koi khwaahan nahin mahabbat ka,
Tu kahe jins-e-narawa hai ishq.

Mir ji zarad hote jaate hain,
Kya kahin tum ne bhi kiya hai ishq?

Patta patta, boota boota, haal hamaaraa jaane hai,
Jaane na jaane gul hi na jaane, baagh to saaraa jaane hai.

Aage us mutkabbar ke ham Khuda Khuda kiya karte hain,
Kab maujud Khuda ko woh maghrur khud-aara jaane hai.

Aashiq saa to saada koi aur na hoga dunya mein,
Ji ke zian ko ishq mein uske apna waara jaane hai.

Chaaraa gari beemari-e-dil ki rasm-e-shahr-e-husn nahin,
Warna dilbar-e-naadaan bhi is dard kaa chaara jaane hai.

Mehr-o-wafa-o-lutaf-o-inait, ek se waqif in mein nahin,
Aur to sab kuchh tanz-o-kanaya, ramz-o-ishara jaane hai.

Aashiq to murdah hai hamesha ji uthta hai dekhe use,
Yaar ke aa jaane ko yakaayak umr do baara jaane hai.

Tashna-e-khun hai apna kitna, Mir bhi naadaan, talkhi-kash,
Damdaar aab-e-tegh ko uske aab-e-gawara jaane hai.